AUTOMOBILE TITLE INFORMATION
Ohio Bureau of Motor Vehicles
Download BMV forms by clicking this link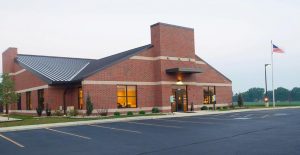 NORWALK OFFICE
305 Shady Lane Drive, Suite 101
Norwalk, Ohio 44857
Phone: 419-668-5717
Fax: 419-668-6034
Email: titles@huroncounty-oh.gov
OFFICE HOURS
| | |
| --- | --- |
| Monday/Friday | 8:00 am – 4:30 pm |
| Saturday | 8:00 am – Noon |
FEES
| | |
| --- | --- |
| Title | $ 15.00 |
| Notary Fee | $ 1.00 |
| Duplicate Title | $ 15.00 |
| Penalty (30 Day) | $ 5.00 |
| Physical Inspection | $ 1.50 |
| Salvage Title | $ 4.00 |
| Watercraft Title | $ 15.00 |
| Mobile Home Archive Fee | $ 5.00 |
| Cancellation of Lien | N/C |
Section 4505.06 ORC provides that fees are to be paid by cash, certified check, or money order.
SUGGESTIONS:
REMEMBER: That the Certificate of Title to your automobile is similar to the Deed to your real property; take good care of it. Do not carry your certificate of title on your person or in your car, keep it in a safe place. It is your only proof of ownership. If you are in doubt concerning the transferring, buying, selling or mortgaging of a motor vehicle, always call your Clerk of Courts for complete information.
CROSS COUNTY TITLING 
Prior to 2002, automobile and watercraft titles had to  be issued by the county of residence. This requirement is no longer in place and title work can now be issued in your county of choice.  Huron County welcomes your business. Your title work benefits our county and we make every effort to accurately process your titles in a prompt and friendly manner. If you have any questions about title work not addressed on our web site, we encourage you to phone our office so that you will have the necessary information when coming to our office.
NOTARY PUBLICS
Before notarizing any assignment on titles, the seller is required by law to enter all information, or you can complete it for them, before it is signed and notarized.  Please note that if the vehicle was jointly owned, both individuals must sign for the notary.
WHEN YOU BUY A CAR
Never make any alterations or erasures on a Certificate of Title. If this is done, the title becomes null and void and a replacement title will have to be obtained. Do not fill in any part of the assignment or application on the reverse side of the title unless it is done in the presence of a Notary Public or other duly authorized officer with power to administer oaths. All signatures must be notarized. If two names are to appear on the title, both signatures are required for all transactions in the State of Ohio. It is required that a picture I.D. or Ohio Driver's License be presented at the time of transfer. Your title must be issued within 30 days after the assignment or you will be subject to a $5.00 late fee. Always check the Serial Number on the vehicle and make sure it corresponds with the serial number on your Certificate of Title.
WROS (With Right of Survivorship)
When a title is issued in two names, WROS will be added to the title.
Transfer on Death (Effective 7/23/2002)
When a title is issued, you may designate a beneficiary or beneficiaries. Full legal name, social security number, address and date of birth is required for beneficiary.
WHEN YOU SELL A CAR
Do not execute the assignment on the reverse side of the Title until a bona fide sale has been made. Seller is required by law to enter all information, including the true selling price, odometer reading and purchasers name. Initials or "nicknames" are not acceptable. Use full legal name.
DUPLICATE TITLES
If original title is lost, stolen or destroyed, you may obtain a Duplicate Title. If, after issuance of Duplicate, the original is recovered, the original must be returned to the Title Office for cancellation. Bring your registration, or year, make, and serial number in when applying.
TRAILERS
A Title is not required on any utility trailer weighing less than 4,000 pounds. To obtain license plates, get a weight card from a license bureau and have it weighed.
MOTOR HOMES-TRAVEL TRAILER TRUCK CAMPER
All are required to be titled. To convert a van to a motor home or after installation of a camping unit on your pick-up truck, you must record the "body change" with your Clerk of Courts. Both titles for the truck camper and pick-up truck must be presented to issue a new title.
MANUFACTURED HOMES
The owner of a mfg. home is required to obtain a title. All mfg. home titles must have a "tax approval stamp" from the County Treasurer's office where the mfg. home is located before transferring. The transfer is done in the same manner as motor vehicle titles.
OUT OF STATE VEHICLE INSPECTION
Any vehicle transferred from out of state to an Ohio title must be physically inspected by an authorized new car dealer in Ohio or any Deputy Registrar.
The customer pays $3.50 fee to the Inspector and $1.50 at the Title Office.
POWER OF ATTORNEY
No person can sign for you without a notarized Power of Attorney form. This POA is attached to our files and becomes a part thereof.
MINOR CONSENT FORM
Minor consent form is required when buying or selling to be signed by a parent or legal guardian for anyone under 18 years of age titling a vehicle in their name. I.D.'s are required.
SALES TAX
Section 4505.06 ORC requires Ohio sales tax to be paid to the Clerk of Courts when an application for a Title is presented. A Use Tax must be paid by a resident of Ohio when he purchases a vehicle outside the State of Ohio. If tax has been paid out of state at the time of purchase, the customer must furnish proof of payment with a bill of sale/receipt. If there is a difference in the tax, only that amount is due and collected.
JUNK VEHICLES
When you dismantle, destroy or change the character of your automobile so that it no longer is a complete vehicle, you must surrender your Title to the Clerk of Courts for cancellation.
SALVAGE TITLE
To convert a salvage title to a regular title, an inspection must be made by the State Highway Patrol. A fee of $53.50 is charged. The application for the inspection may be obtained from the State Highway Patrol Inspection Station.
MEMORANDUM CERTIFICATE
A memorandum title (white copy) is used only to purchase license plates. You cannot transfer ownership of an automobile with a memorandum title.
SURVIVING SPOUSE
A surviving spouse may obtain an unlimited amount of vehicles from the decedent's name, so long as the combined approximate value of the automobiles does not exceed $65,000.  This can also include watercrafts.  Titles need not be probated. A motorcycle qualifies as a vehicles.  This surviving spouse law does not include vehicles such as ATV's, Mobile homes, Motor homes or travel trailers.
CHANGE OF NAME
If your name is changed through marriage or court proceedings, the name on your title cannot be changed. There is no authority in the law to issue a new title in your name, for the same vehicle.
SOCIAL SECURITY NUMBER
Social Security numbers are required on all transactions pursuant to section 4505.07 ORC.
WATERCRAFT TITLE INFORMATION
BUYING A BOAT OR MOTOR
A title is required on all boats 14 feet or longer and all outboard motors 10 HP or more. Jet skis and waverunners also now require a title.  The seller is required to provide the buyer of  jet skis and waverunners with a title assigned to the buyer.  Canoes and kayaks are exempt.  Before purchasing a boat, motor, jet ski, or waverunner, be sure the seller has the Certificate of Title.
TRANSFER OF TITLE
Do not accept the titles from the seller until his/her signature is notarized and assignment is completed.
SELLING A BOAT OR MOTOR
Do not execute the assignment on the reverse side of the title until a bona fide sale has been made.  Make certain that the buyer's full name and address is inserted before you sign the assignment. You must have your signature notarized.  If the title is in two names, the notary must witness both signatures.  If you do not have a title for your boat or motor and purchased it prior to Oct. 10, 1963, your Clerk of Courts may issue a title to you based on your registration and sworn statement.  If you purchased a jet ski or waverunner before a title was required, you must obtain a title and assign that title to the buyer.
SERIAL NUMBERS
Effective July 4, 2002, all watercraft are required to have a 12-character Hull ID # before a title can be issued.
If there is no manufacturer's serial number, or if the manufacturer's serial number has been removed, a serial number must be affixed to the boat or motor before a title can be issued. Application for a serial number is made to the Div. of Watercraft. Forms may be obtained at your County Clerk's office.
STAFF
Office Manager: Tammy Cutcher

Deputy Clerks:

Jennifer Cherry

Bailey Fannin